Solving the Hostess Mystery with Bob Rozakis
While you're reading Hostess ads, I'm sure you wonder, "what person wrote these fucking things?" And then you probably wonder, "who gave that person a sharpened pencil?" Or if you're the warden of an institution for the criminally insane you might be thinking, "how can I capture and restrain this person to help my business grow?" I recently had an email conversation with Bob Rozakis, who wrote hundreds of comics, was the Executive Director of Production at DC, and scripted six of the Hostess ads that tempt your tummy and stalk and kill you in your nightmares. Specifically, he wrote Pirates' Gold, Fruit Pies for Magpies, Lights…Camera…Crime, The K-9 Caper, Concerts and Cupcakes, and Wonder Woman vs. the Robot Master. After you see them you'll know why for my own safety and sense of style, I wore a helmet during the interview.

Seanbaby: Your ads covered so many types of enemies... robot clones, pirates, movie directors, people at a concert, man in dog suit. What are some of the types of villains you would use today if you were still writing these? And, of course, if you weren't allowed to use man in dog suit again.

Bob Rozakis: I suspect the villains would still be pretty much the same, basically goofy, lame characters who could be stopped with the enticement of a sweet dessert food.


SB: I don't think you're being fair to the non-lame, non-goofy characters who could be stopped with delicious snacks, like any villain from Ethiopia. And speaking of places God rejected, do you remember any ideas for Hostess ads that were rejected? And if so, what in the holy shit could they have been?



"We were instructed that the heroes could never eat the cupcakes, Twinkies or fruit pies"

BR: I don't recall any that were rejected, though my file contains only a rewritten versions of "The K-9 Caper" and "Fruit Pies for Magpies" so I guess there was something in them that they didn't like. The heroes were chosen in advance, usually to fit a schedule that somebody (probably Sol Harrison and the agency) had set up. We were instructed that the heroes could never eat the cupcakes, Twinkies or fruit pies, because that could be interpreted as an endorsement of the product. So, we were always pressed to come up with some interesting way to stop a crime or a riot or something else using a dessert.


SB: Behind the closed doors of insane asylums, past the hallways of feces jars, then past the room where patients carefully catalog those jars of feces, then still past the underground pit where the restless bodies of the insane rise to kill, I like to think there's a breakroom where orderlies vote on who their favorite mental crazies are. I also like to think that even further past that, there's a room filled only with crazy people dressed like Napolean. What I'm trying to ask is, did you have any favorite Hostess ads?


BR: I liked the ones that used some tongue-in-cheek humor. Of the ones I wrote, I'd say "Lights, Camera, Crime" was my favorite, especially the last line in which the Crime Director sets up the slogan and package picture as he's being taken away by Batman.




SB: When I ask most people what the best part of Hostess ads are, and I DO, they all say the same thing -- FASHION! How much were you involved in fashion choices of the villains? Particularly, in The Robot Master, did you just give a vague description to the artist and leave, or did you stand over their shoulder and say, "No. Uglier jacket. My grandma could draw a bigger afro than that, and she's in a dogsuit! And you didn't even make his sweater a turtlene-- AGHHH just give me the pencil!"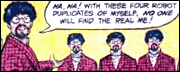 I don't know exactly how the creative comic process works, but somehow Bob's artist thought "mad scientist type" meant "retarded encyclopedia salesman."

BR: All is says in my script for "The Robot Master" is that he is a "mad scientist type." The actual design of the villain was left up to the artist. I never got to see the art until it was completed.


SB: Everyone knows about how Disney's panty-sniffing animators have been sneaking pictures of penises into their movies for years. In the Lion King, the word "SEX" is spelled out in the sky, the Little Mermaid grew a hard on during the scene where she married the lobster or whatever, and I'm sure we've all heard how Robin "Fuck you" Williams recorded all the voices for Aladdin from inside a prostitute's asshole. It's the classic countercultural technique of shaking society up by sublty implying that it might have genitals. The Hostess titles That Dirty Beach, Spider-Man Spoils a Snatch!, and Big Black Ball Banging! are pretty suspicious of subliminal vulgarity. Was it intentional?

BR: I can't speak for what the guys writing the Marvel ones were trying to do. My approach to these was to try to use the characters in a way that was as close to the way they appeared in the books without turning them into pitchmen. It's probably debatable whether I was successful in that.


SB: Most people have their own ideas of how these ads came about-- maybe a magical troll tricked a marketing executive. Or maybe someone else tricked a marketing executive while the magical troll hit him in the head. We may never know since history is recorded by the victors, not magic trolls. Could you tell us what the first thing out of your mouth was when you heard that someone wanted you to write comics about super heroes fighting crime with pie?

BR: I'm sure my first words were "Hey, that's great!" And my second line was, "What are you paying?" From what I can tell of the scripts I have, Aquaman in "Pirate's Gold" seems to be the first one I wrote.


Back to the Hostess Page

Back to Seanbaby.com


If you read the non-comic parts of your comics during the 70's and 80's, you might have seen Bob's Answer Man! column where he responded to letters sent in by the stupid. Here are some highlights:



The Superman Revenge Squad... what does a squad out for revenge against Superman have to be named for this god damn moron kid to remember it? Cookie Monster?





If you bottled all the raw intellectual power getting thrown around in this discussion, you just might have invented the world's tiniest bottle. Congratulations!





Shattering financial dreams one child at a time.





I don't want to get involved in a discussion about imaginary people's imaginary intelligence to settle bets with some kid's imaginary friend, but that answer is bullshit. Batman made an entire car out of bat. Superman didn't even have a fucking bike.





Some kids obviously wrote in because not enough people in their own town hated them. Bob impressed me here by somehow moving out of checkmate.