Above Human: A photo of inventor Stuart Wilkinson, taken shortly before half his face was eaten off. Study it carefully, because you may have to go back in time some day to before he invents flesh eating robots and blow him up.

Above Robot: The Gastrobot train's name is "Chew Chew" after the sound it makes when it's biting through your fingers.

March 8th, 2001 - Robot Holocaust

If you've been reading Seanbaby.com like the world's most exciting supermodels, you know that an underground group of me has been warning the public about the dangers of irresponsible technology for years. I sent an angry letter to Congress about the growing intelligence of our public bathrooms, got a response, and I was personally stalked and killed by a computerized movie-reviewing machine, all in an attempt to send the message: "Don't build things that want to kill you and CAN."

I don't do it because I'm trying to save the world; if I gave a fuck about saving the world I'd be a parking lot attendant or a cowboy. No, I do it so that when robots are walking across the landscape of our laser-blasted skeletons, I can say, "I told you so."

In the last month scientists have been talking about a new robo-invention-- Gastrobots. It'll soon become a household word used in household sentences like, "The Gastrobots have surrounded the compound! Activate self destruct!" and "The Gastrobots... they... they got Billy Nitro! BILLY!!!"

Gastrobots are robots that run on meat. And I know what you're thinking, fatties: "Oh shit. I'm 94% meat. Blarg blaarg all this thinking is making me hungry." Well, the normal sizes are targets too. Gastrobots can run on almost any kind of food from sugar to vegetables to of course, your laser-blasted skeleton. The inventor Stuart Wilkinson from the University of South Florida found a way to use bacteria to break food down and turn it into electricity. He said that a robot like this could "have an unlimited power supply and be able to exist on its own outdoors," finally fulfilling man's need to watch immortal robots gallop through America's proud pastures. Thanks, science. Meanwhile, no one there has thought to invent a robot to kill Bat Boy, who escaped again, injuring none but terrifying several.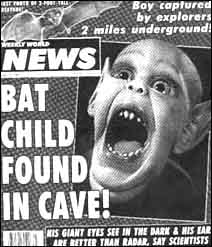 From the Weekly World News (all bold type is my fault and I made the word Kentucky red for reasons still at large):

"We felt like we were on the verge of learning how to communicate with him when he twisted the heavy steel padlock off his holding cell and escaped. The bat boy was last seen heading south and there's no telling where he will turn up next," continued the expert. He moves so quickly that I wouldn't be surprised if he was in Virginia or Kentucky by now."

But even with Bat Boy free to escape again, the public has more important things to worry about. Like robots that want to digest the public's flesh. In fact, according to a recent sampling, Gastrobots are now perceived as the danger most likely to kill us. Seriously, you can look at this graph:



What really sets the Gastrobots apart from all the other robots that have wanted to kill us is how renewable their fuel source is. While the Catholic church keeps masturbation illegal, people are always going to be having delicious high octane children. At least with the Terminators, you figured they'd eventually run out of the little red light bulbs for those cool glowing eyes.

New Scientist magazine says one of the first applications for Gastrobot technology might be a lawnmower that runs on grass clippings. Good idea. Give a robot a taste for human flesh, then attach a whirling blade to it. Maybe we could have it fire electrified throwing stars, or lease them out as babysitters when they don't have to mow lawns, Shithead Scientist magazine.

I might be overreacting. At worse, an out-of-control lawnmower will cost us a few hundred thousand suburbian feet. Those bourgeois fucks can afford prosthetic feet. And thanks to New Scientist magazine, they can probably get prosthetic feet that run on the owner's ankle meat. Problem solved.

On to Page 2