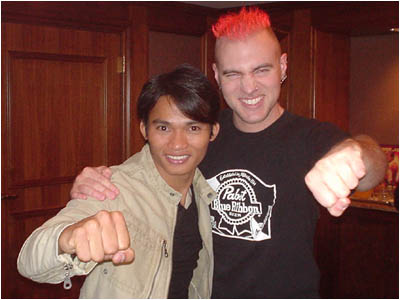 When I interviewed Tony Jaa I made his translator translate, "In Ong Bak, when you lit your leg on fire and did a 360 off that truck to kick some guy with your flaming leg... that stuntman is dead, isn't he?"



I introduced myself to Uwe Boll at the Postal premiere since after all the jokes I wrote about his terrible movies and how he ducked our boxing match, it seemed the gentleman thing to do to go up and at least give him a shot at kicking my ass. It's what I wish people did to me. (Image censored via the demands of Natalie's modesty).



When I told Brian Posehn my name was Seanbaby, he droned, "I knooow. I go on the Internet." I didn't know nerds read my website!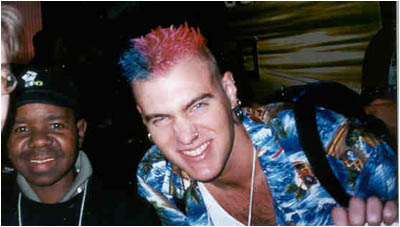 The day before we took this picture, Gary Coleman saved my life by telling one of his bodyguards, "No, don't kill him." It's kind of a long story.



This cute little guy is Miyamoto, the inventor of Donkey Kong.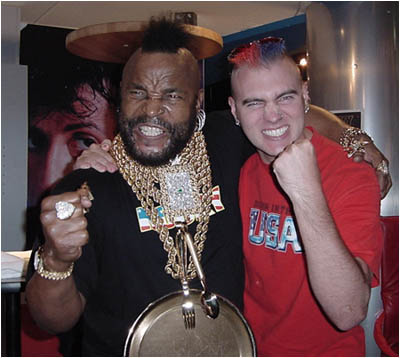 I can say without ego that this is the greatest photo ever taken.



Totally by chance, I ran into Pride Fighting Championship light heavyweight fighter, Quinton "Rampage" Jackson, and he was nice enough not to body slam me into a crater.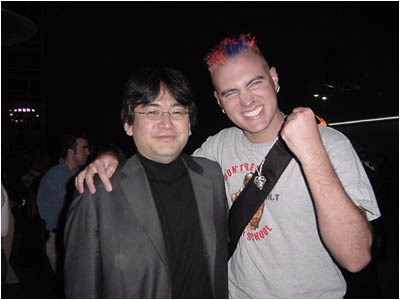 At a corporate Nintendo party, one of my pals from EGM said this was the CEO of Nintendo. They could have been fucking with me, but I got a picture with him anyway.



Me and G4's mascot Po-Ken on the set of our epic battle we filmed for a G4 spot.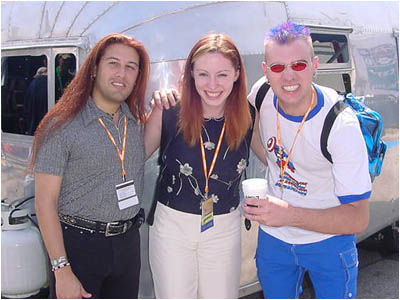 The butt of many of my pal Erik's Old Man Murray jokes, John Romero and Steve Casey saw me coming and knew I was probably taking this picture with evil intentions, but politely let me anyway.



Loving Memory: The greatest performer ever, Rudy Ray Motherfucking Dolemite Moore in Cleveland, Ohio.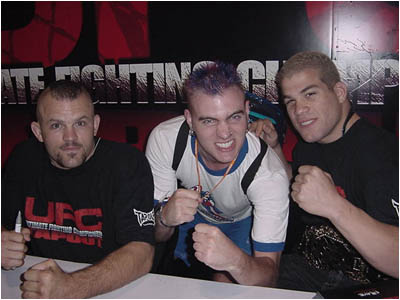 Chuck "The Iceman" Liddell and Tito Ortiz.



A couple nights before Wrestlemania XIX, Joyce and I took her high school friend, Torrie Wilson, out drinking. I was surprised to find that she doesn't sexily peel off her clothes that often when she's not on TV.



Here we are making stupid faces at some club in downtown Seattle. Seconds after we took this picture, Rhyno showed up and made it clear that he was going to cut in even if it meant deadly force.



Me with San Shou and K-1 fighting legend, Cung Le, only minutes before we're attacked by Professor Ninja's karatebots.



My muay Thai kru, Danton Mew, is not only a Hong Kong action star, Kilik in Soul Calibur, and martial arts choreographer, he also happens to be the toughest man in the world.

| | |
| --- | --- |
| | Here's a scene from Gates of Hell where he drags a dude by his face with a chunk of barbed wire for like a fucking block. Earlier, he stapled a guy's hands to a table with steak knives and shot his knee caps out just so another guy could walk up and blow his head off. And every scene that isn't something like that... is two women fucking. GATES OF HELL RULES. |

Here's me and the crew of the MTV Ultimate Video Game Countdown after we finally wrapped and celebrated the fact that we'll never have to hear me read another lame cue card about the hottest video games of 2004 ever again.



I can't remember if Hal was on his way to Celebrity Dodgeball, Celebrity Magician, or Celebrity Gun Repair when we met...



...we ended up doing a G4 show together, which led to this controversial Jean-Claude Van Dammeing on the set...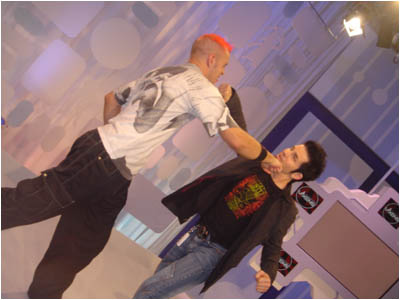 ...our epic fight ended in a Rocky II.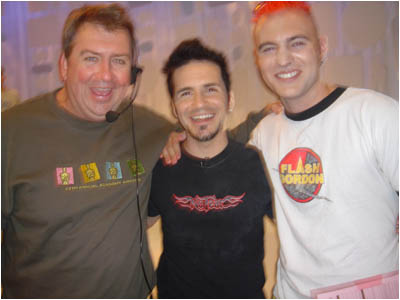 It was a Talk Soup reunion since Tom was our stage manager. Note: I look pasty here because earlier in the week I got stuck in traffic in a convertible and the sun had melted most of my skin off. When I went into the makeup room with 2nd degree burns for a head, I told the girl, "Good luck!" She had to spackle me this entire new face.



I no-bullshit still love Poison, and I think I might have accidentally jerked off to Rikki Rockett back when they looked like chicks. I didn't tell him this...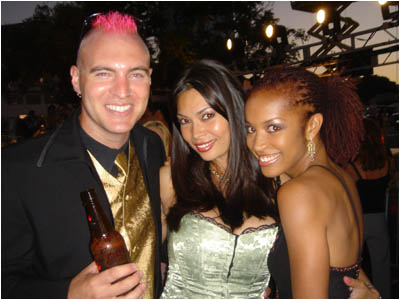 ... I didn't tell Tera Patrick that either, but she probably assumes it about most people she meets...



... while on the subject, Al Lowe made Leisure Suit Larry, a series of adult games I could never figure out how to masturbate to.



Eric Wareheim!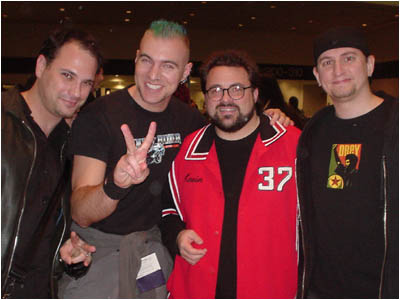 If Kevin Smith read any of the mean things I wrote about him, he didn't mention it.



It's always nice to meet someone else who made it big on the Internet.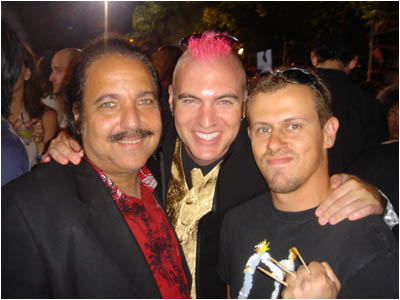 Giant-donged Ron Jeremy.



I train jiu jitsu with Eddie Bravo sometimes when I'm in LA, but to be honest, I can never tell whether a shoulder lock is an oma plata, gogo plata, or gojo plata until Joe Rogan starts screaming it out.



In the Crow, Bai Ling has a line where she goes "I like da pretty lights" that cracks me up every time. I also like when her boyfriend goes, "Quick impression for ya! Caw caw! Bang fuck I'm dead!"



I kissed Colonel Wilma Deering.



International funnymen, Penny Arcade.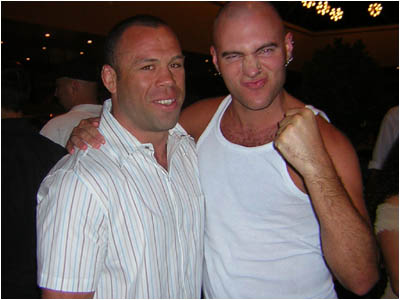 I was genuinely scared being this close to Wanderlei Silva. This was taken when he was PRIDE FC champ, and was on like a 20 fight win-streak, all of them by head stomp.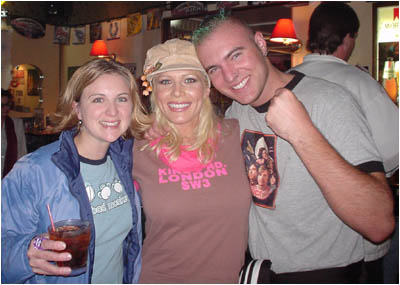 Months after we first met, Torrie came through Portland with the WWE. A couple hours and many, many beers after this picture was taken, I asked her and her husband to knife-hand chop their handprints into my chest. They did. The following pictures chronicle our journey.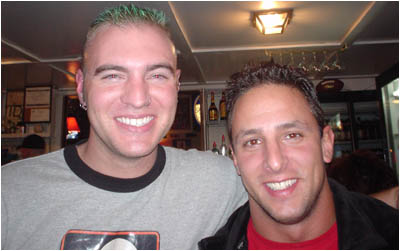 This is Torrie's husband: former Cruiserweight champ, Billy Kidman.



Later that night, my man Anthony and I join him at the motherfucking gun show.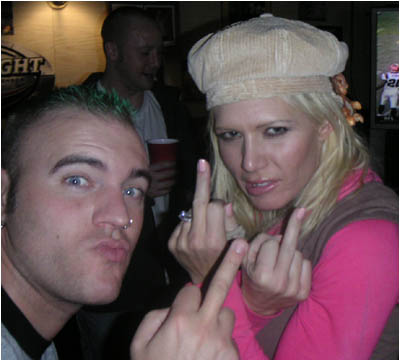 The drinking goes as planned, and Torrie and I spread our message of love.



Note carefully how I just barely stopped drinking for this picture.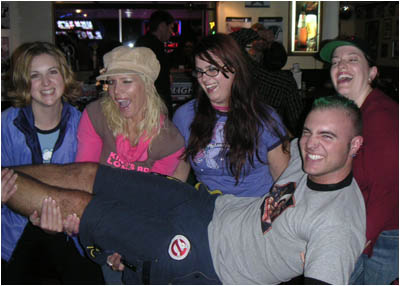 This wasn't some cute pose we did for all of our gay ass scrapbooks. The girls were just carrying me around the bar as a kind gesture.



While the referee is distracted by the Junkyard Dog's antics, Torrie and Billy sabotage Anthony and Julie's touching photo.



A few drinks later, we near the time when Billy Kidman would slap me in the chest so hard my internal organs would hold a protest rally.



As seen here, we no longer have the capacity to pose for photos.



And here is where Torrie started the assault on what used to be called my chest.



This was at a moustache-themed birthday party. Tom's wife does normally does not wear a moustache. It was his actual Reno 911! prop moustache.



I have a wall of terrible or insane movies, and within it there is a shelf of elite insanity. Traxx is the only American feature-length film on it. It's a Shadoe Stevens vehicle, yes the Hollywood Square radio personality Shadoe Stevens, that is almost metaphysical in its awfulness. I bring it up because it was the only movie I could remember seeing Priscilla Barnes in when I met her.



Two nights before I met Larry Thomas, I saw the Soup Nazi Seinfeld rerun. The next night, he was on an episode of Scrubs, doing the Soup Nazi. Then I shared a drink or two with him, where we talked about the Soup Nazi. The very next day, I saw in Skymall that you can get autographed pictures of him where he writes, "No Soup For You!" Were you fucking with me, universe?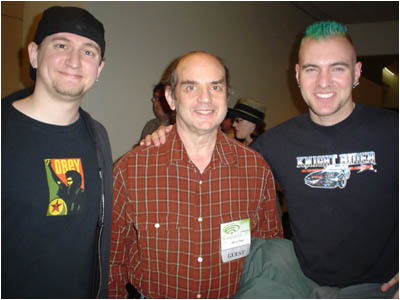 Harvey Pikar!



I can't remember if I was carrying Cliffy for pragmatism or true love.



This guy invented Pac Man. Fucking Pac Man!



This guy invented Sim-everything!



Five time world kickboxing champion, Kathy Long.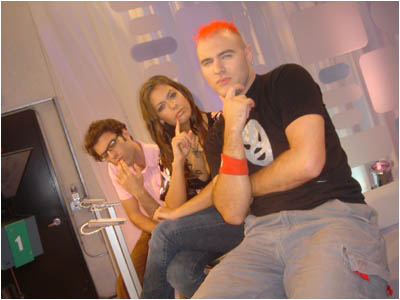 Road Rules guy Jake Bronstein, WWE Diva Joy Giovanni, and The Internet's me on the set of Video Game Vixens.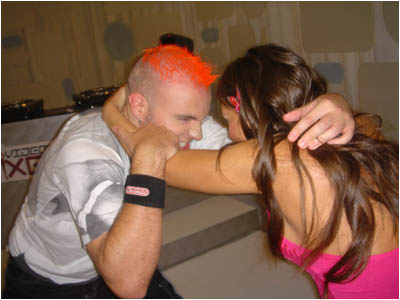 Joy and I were fast friends...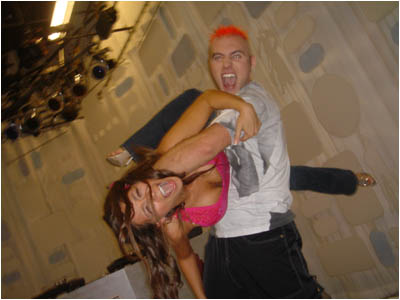 ... but combat-- it's the air we breathe.



I look uneasy because I'm not sure if white people are allowed to do this with their hands in pictures.



RVD!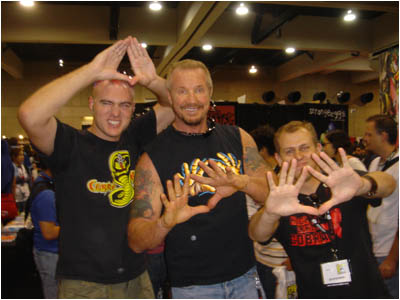 DDP!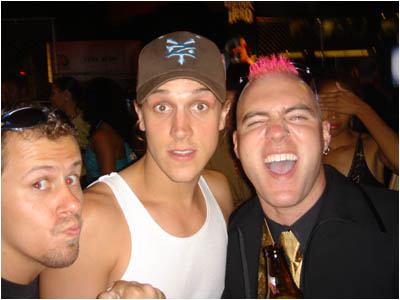 Jason Mewes, or Jay.



Just like his hit songs, Lance Bass had the Right Stuff and he Quit Playin' Games With My Heart!



My girl Nat and Sessler, drunk.



Stacy Kiebler at Prey.



Torrie and Stacy, same place.



In order to satisfy the requirements of my fantasies, I'm holding two beers and Brande Roderick.



When I was five, I thought I invented how to dance like a clown. This guy gets all the credit for it.



Ms. Webb and I at Gphoria.



At the Bomb Squad with Paulo Tocha. I've now personally thanked a total of 1 of the stars of Bloodsport for making Bloodsport.



When I told Stan Bush how much I liked the Bloodsport soundtrack, he looked at me like he was only pretending to know what I was talking about. But even though he has no memory of his contribution to it, I've now personally thanked 2 of the people from Bloodsport for making Bloodsport.



On the set of G4TV.com with Laura and Tina.



Tracy Bingham and I at Ruby Skye.



Loving Memory: Helio Gracie, the Yoda of BJJ.



Loving Memory: Masque.



Loving Memory: UFC Light Heavyweight champ, Evan Tanner.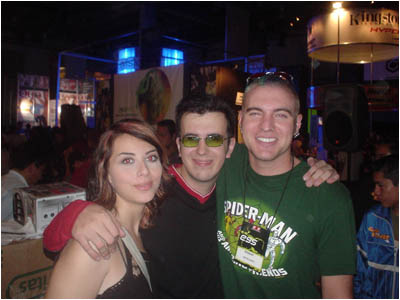 David and Angie, the hosts of some TV show I did at the Mexican E3 in Mexico. I got bored, so I started body slamming volunteers from the audience. David decided we should do a pro wrestling spot for one of the promos, and I told him to lay very still and I would finish him with a Hulk Hogan leg drop. When executed properly, this hurts my tailbone and no one else. I guess there was more of a language barrier than I thought because when I was airborne, he rolled directly under my ass. Probably the gayest way to attempt suicide that I've seen.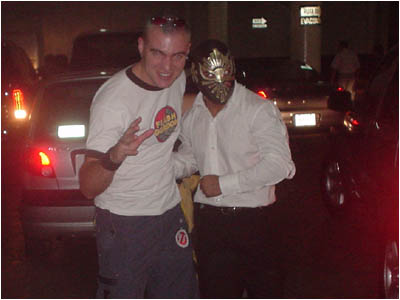 Este es Místico. You can't tell from his suit, but he's a luchador.



Matt Besser at A.S.S.S.S.C.A.T.



Joy recovered well from the body slam I gave her months before this was taken.



The Professor!



Christian Cage at the Hollywood Wax Museum. But he wasn't made out of wax.



Kevin Pereira having beers at Arsenal...



...there might have still been liquor in our blood when we posed for this picture the next day during an Attack of the Show shoot.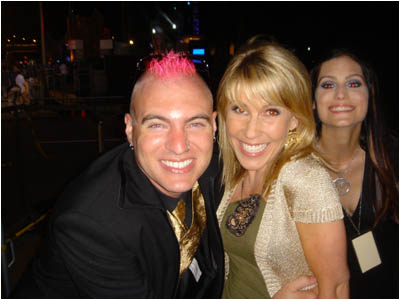 Morgan Webb: Photo Ambusher.



Sessler and the PMS girls.



Tom Green at E3.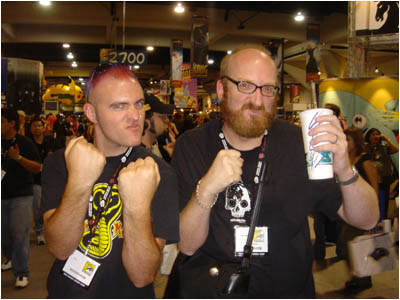 Kung fu masters.



While I was co-host, we never thought to use this as a promotional photo for Attack of the Show. Hindsight is 20/20.



Since it's not clear from the picture: During an interview with Walter Day, we formed a human pyramid.



Former UFC Heavyweight Champ and actual living werewolf, Andrei Arlovsky



Oh, Jay!



Julie from the Real World at G4 studios.



Nikki Ziering, same place.



Nat and Joy at Koji's.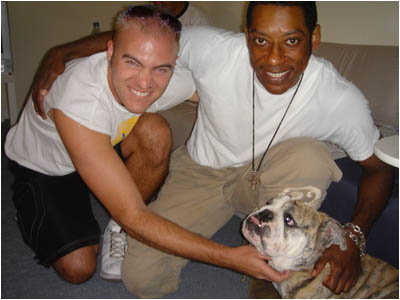 Orlando Jones and his dog Bubba.



This is the princess of space!



Pontius!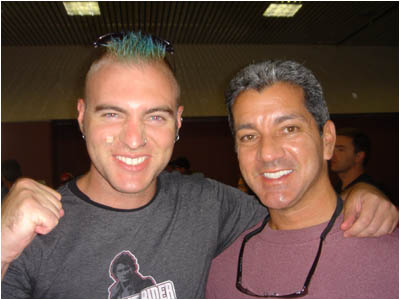 Bruce Buffer in Vegas after Chuck Lidell pummelled Jeremy Horn into temporary blindness.



Dian Bachar!



Iga and me in San Francisco.



Kid Yamamoto in Korea Town.



Trishelle at Hotel Figueroa.



Mini Bosses at Bigfoot Lodge!



Torrie Wilson at some Dodger Stadium concert.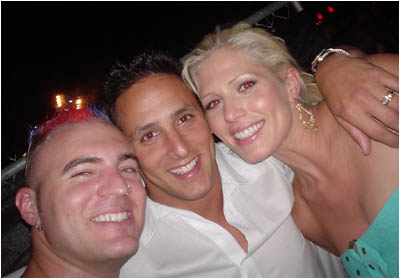 And her husband Billy Kidman. None of us slapped each other in the chest this night.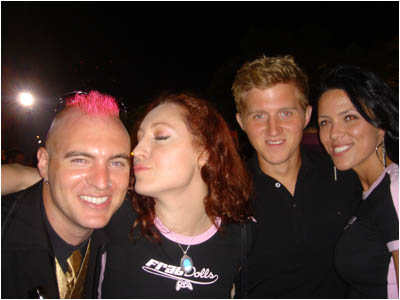 With a combined death toll of over 250 billion zillion, the video game murderers me, Morgan, Fatal1ty, and Brooklyn



Mark Waid and I at Alcratraz.



Levelord, giving his message of love to my face.



Adam de la Pena!



Tony Hawk and I, moving at incredible speed.



Jorge Garcia at Comic-Con.



Former UFC Heavyweight Champ, Tim Sylvia.



Gallagher squeezed a photo with me in between fruit smashings.


Back to the Main Photo Album