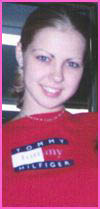 Unfortunately, Tammy is only 17 and in some states I could be arrested just for what's going through my mind right now. You can visit her homepage to learn more about her, but I've listed some of my favorite items from her manifesto, Reasons No One Could Ever Totally Accept Me.

16.) I wine. alot.

22.) I like to dance around at 3 in the morning.(i cant help it:)

40.) I get depressed when i have time to think about all the horrible shit on this earth.

42.) I have no talent. i'm exceptional at NOTHING!

50.) I'm on number 50!!!!! yes!!! (haha)

I think I totally accept Tammy and am going to buy her the biggest bowl of ice cream you've ever seen.


good evening ladies and gentlemen, i would like to take this spot on Sean's page to say " I RULE!!!!";)no, i just wanna say thnx. it makes my heart smile.

*tammysara*
Back to the Reader Babes Page