Skip Rogers: Sarcastic Genius? Over-medicated Idiot? A True Nintendo Mystery.
or... Score More Points in Nintendo Games: Thirty Four Minutes of TERROR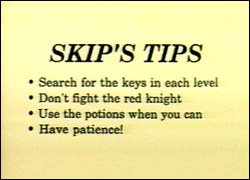 Thanks again, Skip. I was wondering what to do with those keys and potions. I wish you would have covered "moving my character left and right." Also... how do I jump, fucker?

In Score More Points in Nintendo Games, Skip gives us help with Top Gun, Mega Man 2, Platoon, Metal Gear, and Wizards and Warriors. Poor Skip never realized that none of these games kept track of your points; you either finish them or you find something more fun to do. If you want to score higher points in Mega Man 2, play it on a unicycle. Champion Rogers might as well have named the instructional tape "Bake Better Cupcakes with Nintendo Games."

One game, Wizards and Warriors, does take the time to keep track of your points, but let me tell you something. If you actually put Wizards and Warriors into your Nintendo, a low score is the least of your worries. I can guarantee that a person who cares how well they do in this crappy game can't cross the street on their own, and probably shouldn't be playing video games without a helmet.

While Skip is teaching us how to more efficiently waste our time with Wizards and Warriors, he's very very happy about a few items. One of them is the Boots of Lava Walk. Skip will tell you they're unbelievable and terrific, but don't listen to him. Here's what they really do: normally, you can stand your acorn-headed guy in lava for five seconds before you start screaming. After you put on the Boots of Lava Walk, you can stand in lava for six seconds. If you come across them, it's barely worth pushing the button to bend over and pick them up. You couldn't give these damn things away. Shit, I saw nineteen pairs of Boots of Lava Walk at Goodwill last week, and hobos were still wearing milk cartons on their feet.



Skip's voiceover tip for this screen is "This is The Map. The white dot on the map shows where you are. The red dot shows your destination." The closed captioning for the hearing impaired version of it reads, "Duh." Hey, Video Game Champion, this is The Analysis.


STUPID ASS

The first word in the phrase "stupid ass" shows where you are, and the "ass" at the end shows your destination.

Click here to see how a World Video Game Champion plays Wizards and Warriors.
(Video, 1:00 - Warning: totally gay.)

It gets worse. He reads us descriptions of other boots, hats, and magic wands from the instruction booklet, adds some of his own personal praise, and then gets to the Cloak of Darkness. You might remember it as being internationally recognized as one of Nintendo's Most Useless Power-Ups. Skip doesn't think so. In fact, he stops his flow of speech to describe it in one fragment of a sentence: "Very important."

While you're trying to figure out if he's being sarcastic, he says "here's how it works." Then his man disappears, gets hit by a few bats, and falls off a series of ledges. Oh. That's how it works. I guess Skip is right-- that is very important. Just imagine how important the cape would have been if it just made your guy die when you touched it. Or better yet, grow tits and then die.

Click here for Skip's Cloak of Darkness Adventure!
(Video, 1:00 - Warning: Thou will be wasting thy fucking time.)

Later, he shows how even ghosts can't see you if you're in the Cloak of Darkness. He proves it by going up against a giant ghost. It floats over to where he is, hits him, floats over to where he ran away to, and hits him again. I might not have rank bars on my video game jacket, but I think that ghost can see you, Skip. It's pretty hard to run over and hit something when you're blind. Unless the guy you're trying to kill leaves you a braille-shaped trail of bread crumbs or something. Maybe Skip Rogers does things like that to challenge himself and see what it's like when we non-champions play games.