Seanbaby: I doubt the Mad Magician has a satisfying excuse for turning into a huge frog and keeping people from eating Twinkies. It seems like card tricks would be more productive. Shit, forming a kitty out of a balloon would be a craftier plan.



Mr. Fish: Wait until this little bitch gets to supervillain prison.

The Destroyer: "Hey, new fish! I'm the Destroyer! I once nearly destroyed a dam and flooded a city! I heard you turn into a gigantic frog. What do you do after that?'

Mad Magician: "I keep, you know, kids from eating Twinkies."

The Destoyer: "Well. I guess you're the one getting raped then, huh?



Luke Cage: Bitch, are you for real? Twinkies supply? There are orphans out there eating their own spit and the city is stockpiling Hostess Twinkies!? Fix a pothole! Build a parking garage where I can take have date without my lady choking to death on exhaust. What community voted on getting a GOD damn room full of Twinkies!



Dr. Doom: Doom wonders aloud why the mayor's office was filled with children. By the way, Doom knew that was the mayor because of nameplate on his desk that says "MAYOR."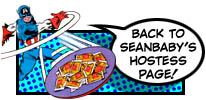 Seanbaby.com