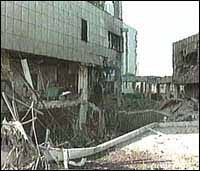 News like the bombing of the Chinese embassy make it difficult for smaller stories to break in. Not only was it an international tragedy, but it became a human interest piece when Chinese people became enraged after finding out all their last names mean "dick" over here.
Pilots responsible for the bombing claimed to have "never played video games that much," making the cause of this destruction perhaps an unsolvable mystery.
September 26th, 1999 - Who's the Real Cha-Ka?, Demands No One.
Recent natural disasters, civil wars, and presidents that have sex with fat girls have made it harder than ever for other events to make news. That's why it takes something like this story to grab national attention. Something as intense as one of TV's most beloved stars being dethroned and discredited.

Guitarist for Sugar Ray, Rodney Sheppard, claimed that he played that little cave kid on Land of the Lost. Not surprisingly, everyone in the world responded with, "Great, Rodney. Could you guys play that fucking every morning song again?"

But not everyone was so apathetic. The real cavekid, Philip Paley (known to his Pakuni tribe as "Cha-Ka"), hired a lawyer who would accept his land's giant strawberries as payment, and reclaimed his rightful place as the answer to a trivia question no one was going to get.

This turned out to actually work in favor of the former monkey child star, returning him to the national spotlight like his famous appearances on Planet of the Apes themed child pornography. And I'm hoping to duplicate Sugar Ray's publicity stunt with this announcement:
I played the girl on Baywatch that Pamela Anderson Played.