PART 3: Contrasting Viewpoints - Two Way Mirrors Into Our Souls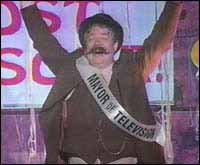 City officials came out adamantly against the violence. The mayor of LA, Richard Riordan, said he condemned "the lawlessness of so-called fans who destroyed property and endangered the safety of fans and families in the vicinity." However, Wanky McFatto, the mayor of television (right) said, "lawlessness is the paintbrush our bricks use to show us their feeling deep inside!"

Center Shaquille O'neal, who wept openly after the game, scored 41 points and had 12 rebounds that night, while on the same night, Walter O'Neal, a local bike messenger and whistle collector, scored 4 cracked ribs, 3 second degree burns, and 7 new Sega Dreamcasts.

Los Angeles basketball fans go on rampages when their team wins, but what about Indiana fans? According to limited research, the only incident of note surrounding the NBA finals in Indiana was a census worker getting eaten alive by twenty of Wayne Newton's dogs a few days before.

The devoured census worker was warned by Beware of Dog signs, but of course he ignored them. Census workers have no fear. Because when your job is to go to someone's house and find out the name of people who are already in the phone book, you have nothing left to lose. The numbered inspectors who check your underwear have better lives than census workers. At least they sometimes find a hole or a beetle in your panties and save your life. You know how you write your name on your mailbox? Census workers don't. There are kids in Singapore whose job it is to pick raisins out of cereal, and they make fun of census workers.

Here's a fun trick you can play on the government: When the census worker ask you your ethnicity, looked them straight in the eye and tell them you're an eskimo. The government will give all the statistics to the corporations that own it, their marketers will think we're all eskimos, and they'll try to sell us cigarettes by dangling whale blubber in front of us.