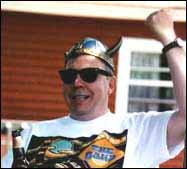 Above: Since no picture has been released to the press by Ed O'Rourke's legal team, you'll have to settle for this photographer's conception of what he looks like. Psychological analysis indicates he is very likely to wear the silly hat to his trial, along with a bath-towel cape, inflatable water wings, or other fashion accessories known to be loved by the retarded.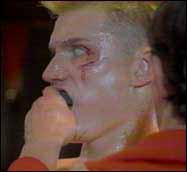 The bars aren't the only ones in trouble from idiot lawsuit fans. Dumbass Ed O'Rourke also named Tampa Electric Co. as a defendant in the lawsuit. He said the utility did not do enough to prevent him from getting into a fenced, gated, and locked substation and scaling the electrical transformer. Tampa Electric has told courts their snipers put 8 bullets and a knife in the man, but their Earth weapons were not enough to stop his stupid rampage. After a dramatic pause, one said grimly, "He made it past Commander Killstrike. No one's EVER made it past Commander Killstrike." One nearby Russian boxer added, "He is like a piece of iron."
March 9th, 2000
Drunk Man Explodes, Sues Bar "Responsible" for it.
A special hooray to Excite News for scooping me on this.

Another person who thinks being an idiot entitles them to fabulous cash prizes has taken someone to court. Florida dumbass, Ed O'Rourke got drunk, climbed an electrical transformer, got zapped by 13,000 volts, exploded, and sued the bars that served him alcohol. It may sound stupid, but according to lawyers who are stupid, his case may be valid as it a strong precedent was set by the drowning victim who sued God, manufacturer of the faulty non-water proof human lung. Even though God won that case (mostly through supernatural jury intimidation), O'Rourke's legal team says they have a good chance at a multi-million dollar settlement. Here is a piece of their statement*: "We will prove that the bars in question not only knew of my client's history of dipshittedness, but did not specifically tell him to avoid suicidal acts of idiocy on his way home."
*Translated from the secret language of Imbecile. -editor

The state of Florida was quick to give a statement in favor of the defendants. Florida representative Gator Orangetree: "You see, here in Florida, we offer all retards a special 'helper' if they request one. Mr. O'Rourke signed a form saying he did not want a state-funded chaperone to follow him around during his entire life. And he paid the price for that. He's had no one there to keep himself from blowing his nose on his shirt, no one there to keep him from falling asleep on the oven range, or anyone to prevent other thinking-impaired accidents. However, this incident has no excuse, our state has a a very qualified staff of retard-assistants that deal exclusively in 'hey, climb your fucking stupid ass down off the high voltage wires' situations. Likewise, we have several specialists who follow 'clients' simply to remind them to keep their pants buttoned and let them know appropriate times to do somersaults. As you can see, Mr. O'Rourke certainly had these resources available to him and we've really done all we can to help him and our other idiot citizens."

The bars responded similarly. One local bar & grill owner has come up with a new invention he thinks will revolutionize dipshit-accident prevention. It's basically a standard lawn mower they keep running in the back of the bar, and every 20 minutes, patrons are asked to stick their foot under it. Anyone who does so is immediately denied further liquor unless they pay double for their drinks, or even triple in the case of repeated foot insertion.

Barroom lawnmower experts say the invention would have a more widespread use if the blade was removed, but admit the temptation of collecting the feet of dumbasses is irresistable (and still technically not a crime in Florida). However, in Georgia (where foot collecting is a misdemeanor commanding a very high fine), bar lawnmowing has taken on a darker tone where small-time mafia ringleaders are known to pay in upwards of $400 for the foot of a dumbass, no questions asked. Some claim these feet are not only taken from people against their will, but from people that are not even dumbasses. As one urban legend tells it, victims wake up footless in icy bathtubs with a note taped to them reading, "Want your feet back? Turn on your garbage disposal and stick your dick in it. I have your kidneys too, they're in the polar bear cage at the zoo. Why am I even writing this? If you got this note, you probably don't know how to read it, dumbass."

Southern officers are looking into the problem, but of course admit they think it's "really fucking funny."