Not just people with cinematic taste were offended by the new Star Wars movie. According to miraculously talking statues of the virgin Mary and one church publication, "The Phantom Menace parodies the Holy Scriptures and promotes a New Age culture that Catholics should oppose." Over 80 percent of Mexican Catholics did their best to follow this advice and threw away their New Age laser blasters and glowing flashlight weapons. God gave them His nod of approval by blessing one religious leader with a shiny new flat bed truck. After a short prayer of thanks, 40 men piled into it and drove off to pick strawberries.

The church's greatest concern was the movie's own version of a virgin birth, claiming the idea is a clear copyright infringement as Catholicism had trademarked accidental pregnancy long before they were even lighting witches on fire. Along with $20,000,000 in damages, Catholics demand Lucasfilm Ltd. make four feature length Hail Mary films.

George Lucas, now forced to live in an orbital satellite to avoid outraged ethnic groups, could not be reached for retaliatory comments. Rumors are circulating that his film Stations of the Force, a film describing the crucifiction of a space hippie who is saved by a homosexual tapdancer and a Korean dog chef, may be cancelled. And since George is such a pussy, I'd like to ask all readers to go out and punch a minoritied person.

"We are sensitive to the Mexican Catholic church's concerns, but Stars Wars: Episode I The Phantom Menace is not about religion," says Lynne Hale, a spokeswoman for Star Wars. Unlike Lynne, I have no such sensitivity, and think the concerned offendees should go back to their crucifixes and tacos looking for images of Jesus on the side of the fucking 7-11. We don't care if you didn't like Star Wars, nobody here did either. This year, why don't you give up being a crybaby for Lent?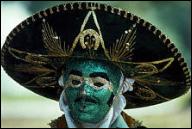 Mexican Catholics took a break from their breeding to become outraged at the Star Wars character Joospick Slandarr from the Frijole System (above). A Mexican priest barely managed to speak this through his tears, "His sombrero was offensive enough, but if you look carefully in two scenes, he is eating what looks very much like a burrito! Joospick's skin is also blue - the color tourists' poo turns into after eating our proud country's poorly preserved food."*
*translated from a combination of Spanish and Wuss