Above: The Learn the art of Dancing Dirty case. Note the carefully Swayze-like model.

Not pictured: The many, many legal disclaimers pleading for the movie Dirty Dancing to not sue them.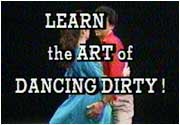 Learn the Art of Dancing Dirty, 1988

If you ever wanted to learn how to dance dirty, but can't stand Patrick Swayze, there's good news for you. Learn the Art of Dancing Dirty, 1988 is an instructional video that has nothing to do with Patrick Swayze, showing you erotic dance moves with the help of two creepy "Dance Instructers" Felix and Marla. And when I say creepy, I mean it. These people couldn't make your skin crawl more if they were covered in hissing spiders dressed like Dracula.


The one and only song they dance to sounds like someone just hit the "Atomically Crappy Bossanova" beat button on their 1983 Casio keyboard. It honestly could not be worse if the keyboard grew robot arms and started stabbing you. Please be understanding with me, because there is no way I can describe how god damn awful this damn song is. Lucky for you, its writer, Kirt Miller, did a pretty good job of capturing its horror when he named it "SKEEEEN YAAAAH." That's right. SKEEEEN motherfucking YAAAAH.


Before the instruction starts, the makers of Learn the Art of Dancing Dirty warn you that you should consult your doctor before you start it or any other dance program. Also, while the producers and performers offer many unique ways to rub yourself against other people, they disclaim any liability for your injury. And while you should always listen to the medical advice of perverts, if you need to call your doctor to make sure you're medically able to grind your pelvis against someone, please don't learn the art of dancing dirty. Because if you're so old or out of shape that this or any other dance program might injure you, the people that will really need a doctor are the ones unlucky enough to see your nasty ass try this in public.