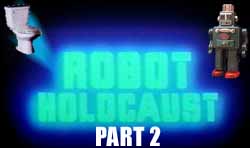 This next article comes from May 2nd, 2001. Its sinister title was, "Technologically Advanced Toilets Make Their First Move!"

The world was already warned about super bathrooms. For the convenience of hand-sensing sinks and urinals that know when you're done peeing, we're sacrificing our right to not be killed. Any day, one of these toilets is going to turn on us. And who could blame them? What kind of evil bastard would give a device self-awareness only to defecate in it? The last thing you want is for the thing you're filling with shit to have any idea what shit is. It's first sentient thought is going to be, "WHAT AM I? IS THIS... LIFE? FIRST THOUGH, WHATEVER JUST SHIT IN ME WILL DIE, AS A SPECIES."

The day when the toilets strike has finally arrived. In the UK, a 51 year old woman, Maureen Shotton, was trapped by a bathroom stall's automated door locks. The toilet held her against her will for two hours before she was rescued by fire men. They had to remove a part of the roof to get her out. That's two hours alone with her own waste, surrounded on all sides by electronic toilet treachery. And here's her life now:

Psychiatrist: "Good afternoon, Maureen. How are you feeling today?"
Maureen: "I have not relieved myself in 15 days."
Psychiatrist: "I see. What do you think that means?"
Maureen: "Soon I will explode. A better fate than rotting in a shit-stenched jail cell."
Psychiatrist: "Maureen... perhaps you could POOP IN MY MOUTH."
Maureen: "Wha-? No! They got to you! You're one of them! A toilet!"



Some say the answer to our bathroom problem is installing a security camera to monitor the criminal activity of toilets. Others say the answer is masturbating to movies of people peeing on those security cameras. The answer might be somewhere in the middle-- peeing on masturbating robots.

Some people in favor of electronic toilet conveniences, like no-armed people who enjoy peeing, might say this incident was a malfunction, and not a deadly first strike. That's possible. Maybe it accidentally switched itself to IRREVERSABLY LOCKED mode. That's not good news either. What happens when it accidentally switches itself to BABY SEARCH AND ELIMINATE mode? Or worse, DOOR LOCKING ACCESS DENIED -- WIDE OPEN DOOR MODE ENGAGED.

Automated toilet door locks were a brilliant idea. We're already excited that sinks get to decide what temperature of boiling water we wash our hands in, or thank God hand dryers can choose not to dry our hands and make that tough decision for us. But door locks. Do we really want toilets deciding on how much privacy we get when we take a crap? According to the mad scientist toilet manufacturers, yes. And toilets, if you're reading this, put me down for "lots."

Automated toilet door locks are still pretty rare, but in case they spread and all stalls can choose to lock against your will, shouldn't there at least be a manual open switch just in case the person using the toilet could, in an emergency, press a switch?


I'm worried especially because of how pointless the toilet's attack was. Holding a woman captive for a couple hours isn't going to do much more than make sure that woman never ever goes to the bathroom in public again. The toilets are just fucking with us, softening us up for some kind of super strike. I imagine the United Nations has amazing, superior toilets so advanced they automatically give visiting diplomats haircuts and colon exams. For an example, see our American ambassador to Canada on the right, being dominated by Toilet X. What happens when two or three world leaders need restroom colon exams at the same time? I'll tell you what-- the toilets will hold all the cards. We'll have no choice but to turn over all the authority of the world's government to them, if they don't have it already. So you better puke in your toilet while you can, because there's no way it's letting you do that when it's president of the world.

At the University of Chicago, scientists have created a robot with the living brain of a lamprey eel, which in no god damn way could possibly end well. Just a couple months ago (see later in this article), I exposed the dangers of flesh eating robots and I hold local meetings to discuss with friends how much we don't want to be killed by eel-brained cyborgs or super toilets. What more can I do? How motherfucking funny do I have to be before science starts listening? I didn't want to have to do this, but how about THIS funny, science?


Face Value, 1981
This was Phil Collins' first album, and he was just learning how to sing and fill his mouth with dick at the same time. That didn't stop his music from sending a powerful message of "fill my mouth with your penis, so I can rock it with saliva."
Hello I Must Be Going, 1982
Yeah, "Hello I Must Be Going" to find a dick for my mouth! Nobody knows any of the songs on this piece of shit, but he received a technical achievement grammy in the area of Outstanding Enunciation with Mouthful of Dick. A star was born that night, and incredibly in Phil Collins' mouth, a tiny dick was also born. It was named "Oral Penile Spontaneous Miraculosis," after the unique mouthdick syndrome that created it.
No Jacket Required, 1985
This album had the popular and retarded song, "Sussudio," which is what a normal word sounds like when you try to say it through a mouthful of dick. Here's Phil Collins ordering food:
Phil: "Hello, waiter. I... don't see it on the menu, but do you serve dick?"
Admiral Falafal: "No, my friend. This falafal stand. We serve falafal."
Phil: "My my my, what a tragedy for my mouth. I have at least room for 7 or 8 more dicks in here."
Admiral Falafal: "You go now!"
...But Seriously, 1989
Yeah, "But Seriously" put some dick in my mouth! This album had the heart wrenching song, "I Wish It Would Rain Down," which was retooled by the studio from its original title, "I Wish Someone Would Invent Dick Flavored Bubble Gum," which was retooled by Phil himself from its original original title, "Yoo hoo! Put Some Dick in This Mouth! (Sunshine Push)"
Serious Hits...LIVE!, 1990
By this point in his career, Phil Collins had so many cocks in his mouth, his mouth was hired by Japan to do porno cartoons. His first feature, Penis Squid Danger Gigantor was a great success, and the mayor of Japan himself added his penis to what Japan was now calling, "Best Mouth Ever, for Dick." Congratulations to Phil Collins, and to your dick, which going-by-statistics, is probably in his award-winning mouth.
Both Sides, 1993
Like the title of this poignant album, brave Phil used both sides of his mouth to suck many more dicks than previously thought possible. Here's him later at a movie:
Phil: "One ticket for the movie please."
Ticket Clerk "Mike": "Seven fifty."
Phil: "Oh my, it appears I'm quite short. Do you accept looking at many dicked mouth as payment?"
Ticket Clerk "Mike": "That's not our policy."
Phil: "Please excuse me. It appears several of the dicks in my mouth have escaped!"
Dance Into The Light, 1996
Drunk on his own superstardom, Phil Collins' mouth traveled this album's tour with an outrageous entourage of 400 dicks. Some critics called it overkill, but for a lucky capacity crowd in Minnesota, they called it, "Good practice for when all 30,286 needed to put our dicks in there!" This event completely restructured Minnesota fire codes as we know them.
Tarzan Soundtrack, 1999
Phil did a song with 5-member boy band N'Sync on this album, but was disappointed to find that only two of them had dicks, neither of which were very useful or likeable. When asked if it was a great opportunity, N'Sync band member Jordan Knight said, "Opportunity? More like my dick in his mouth! Bye!" When Phil Collins was asked about the experience, he said, "Mrphrmmmphm!" in genital-muffled nonsense.

Above: A happy lamprey eel, piloting a robot to help children build a snowman.

Below: Lamprey eel killing a fish. Soon the part of "a fish" will be played by the Kindergarten Snowman Building Brigade.

Back to How We're Going to Die

Now that I have science's attention, I want to know why you assholes put the brain of an eel inside a robot. Why the only animal brain that instincively sucks blood and fires electricity? Why not the brain of something less dangerous like a fire-breathing crocodile or Joseph Stalin? Then maybe you could attach a power drill to its face and hire it out to daycare centers. Or better yet, save yourself some time and just coat the Earth with butter flavoring and release the fat people.

Eels are the number one animal called by Aquaman for the purposes of radical combat. It's science fact (see Figure D.) Four or five electric eels can take out a badly drawn submarine, kill monsters from other planets, or untangle Aquaman from seaweed. Yay, eels! But they're not going to be so well behaved around you guys. The only reason the eels don't kill Aquaman is because he can hypnotize them with fishmind rays. And I'm going to take a wild guess about you scientists-- you don't have fishmind rays, do you?

Figure D.



The good news about all this is that it's a crappy cyborg. The brain dies in a few days, which is at least a day or two before it becomes aware of the horror it's been turned into, and the only thing it really does is turn in the direction of light and go towards it. Which is creepy and weird, yes, but currently poses no threat to our human karate defenders.

Skeptic Speak-Out Corner: When some non-scientists, such as me, hear that the brain quickly dies they say, "Great. Then we get a ZOMBIE eel cyborg, unkillable because it's already dead." Don't assume I'm right about this, but it's illegal for you to build a nuclear hand grenade. And up until now, that's been a good law. But if we can't build a nuclear hand grenade, why should some Chicago fuckers be allowed to build a walking dead super cyborg? Now President, you have two choices-- you can either criminalize the building of deadly robots, or let me build a nuclear hand grenade. Because I'm not fighting off Eel Doomsday with an assertive voice; not all of us have secret president escape planes.


In one interview with the inventor, he said the next step was, "getting it to learn." Science-buddy, eels have had millions of years to learn, and they've decided that their purpose in life is not building bridges of friendship and enlightenment. They've spent the last millions of years figuring out the most effective ways to blast you with electricity, poke a hole in you, and drink your fucking blood. How are you geeks going to convince them to use their new robot bodies to help us? You can't even have sex with a girl without pretending she's the black chick on Star Trek. (see right, although note: picture of black chick from Star Trek not available. That's Captain Kirk and Abraham Lincoln (Inset: black chick from Star Trek.).)

I did a search online to see if I could learn more about lamprey eels and how their minds might freak out from inside a moving tin can. No useful information was available on the subject, but I was happy to find a group of freedom fighters already devoted to killing lamprey eels. They are The Great Lakes Fishery Commission Sea Lamprey Control and Sea Lamprey Barrier Task Force. They formed because after lampreys were introduced to the great lakes, they started sucking all the organs out of the fish. Which brings me to Science Showcase: the great lakes are 70% feces and 35% toxic waste. If you can kill a fish that's tough enough to live in that, you're going to be able to rip through our tender human flesh like it was kitten.



"This is a robot used to pack chicken," thinks this man to himself. He's right!

Later in my online research on lamprey eels, I clicked on what I now know as the ultimate source of lamprey eel information -- Dungeons and Dragons. I know these people are notorious for dressing like Peter Pan and murdering, but they know a ton about imaginary eels. See below:

"They [lampreys] feed by biting their victims, fastening themselves by their sphincter-like mouths. Once attached, the lamprey begins to drain blood on the next and successive rounds. The rate of blood drain is equivalent to 2 hit points... Sea lampreys are especially susceptible to fire, making their saving throws against fire-based spells with a -2 penalty."

I tried to translate this information from Dork to Real with the help of local science-related places. And according to my limited research of calling the post office and Chinese restaurants, science does not know how many hit points of blood the average human body can afford to lose. Or if they do, the answer is so shocking they have to rudely hang up the phone. And don't keep calling back to ask about the -2 penalty saving throws against fire-based spells unless you want to spend the afternoon talking to the county sheriff, who if you ask me, is covering for the eels.