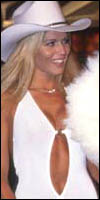 From: 'Lord' Rev. Dr. Paul Soth
Goofball image for/of you...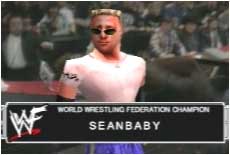 I recently rented WWF Smackdown for my PSX, had some fun with the create a wrestler feature, played it for the past two nights, hooked up the PSX to my video scanner, and came up with this image. People have said that you should be in a video game...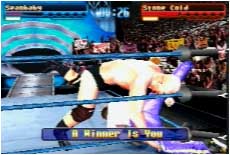 Oh, and i've managed to make you the Heavyweight Champion, the Intercontinental Champion, the European Champion, the Hardcore Champion, and one half of the Tag Team Champion. I just wish i managed to get some shots of 'you' talking to and beating up other wrestlers backstage.

--
'Lord' Rev. Dr. Paul Soth
Sephiroth: Agent of AGSF
http://www.angelfire.com/sc/sephagsf/index.html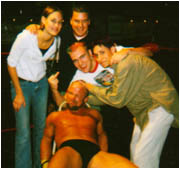 You remember how people used to tell us that winners don't use drugs? They were kidding. People on steroids win almost every time against people who aren't on steroids. Remember Ben Johnson? They might have taken his gold medal, but he still ran the fastest. Here in Oregon, we're against that crap. We make our visiting athletes pee in cups. And since everyone in the WWF has beef hormone shakes for breakfast, they aren't allowed in the state. But we do get Portland Championship Wrestling. It's not quite WWF. It's the kind of wrestling where you might see the guy that drove your bus there show up in the ring. Everyone looks like someone's dad decided to put on his blue underwear and hit his neighbor with a chair. Sometimes WWF wrestlers miss matches because their private jet is stuck in Tahiti or they got VD from one of the girls on Baywatch. In Portland, wrestlers miss matches when their pickup doesn't start or when their manager makes them work late at the RC Cola factory. But we love it. And after an hour or two at the bar, we believe every slap of it.

(above right) That's me and my pals (Claudia, Tim, Anthony) posing with PCW superstar, Smart Bart Sawyer. You might not be able to tell, but 5 minutes before some guy took this polaroid, Bart got handcuffed to a chair and I got called into the ring to shave his hair off. And he was pissed about it. The guys before me took most of his forehead off, and I think I saw his brain. When I poked it, it made his left leg kick. I stuck my gum in there when I thought no one was looking, so put your money on the other guy next time. I have a feeling Bart's going to be a little fucked up.