From: "Jason" (chicamuga@hotmail.com)
Subject: intelligence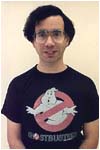 I'm guessing this kid looks like this, only with a giant oversized brain.

My, it's so nice to find an intelligent person. They are very rare. Not that I am saying that you are, or that I am either, but I would assume that you are one of the few, the proud, the marines. No, not that at all. Your article on sarcasm was quite well-said. The cynicism made me laugh several times. You have a nice site. I would also assume you get many e-mails from people who agree that you are cool, funny, and intelligent. I am fond of your reference of a "Fight Club" line. That is the best movie I have ever seen. Some of the topics and views expressed in the movie were frighteningly close to how I see the world. Seeing it made me believe that there was someone like me in the world who wrote a script to a movie. Now I find that someone who shares at least some of my philosophies with me, in you. Were I inspired, I would likely have a site much like yours. But now I find you have made a site which I feel is of the type which the world requires, so I will not expend the effort. The over-abundance of morons is astounding to me, as it seems it is to you. Stupid people inherently breed more than intelligent people, thus advancing the problem to almost uncontrollable levels. I rant to my friends and anyone else I can find quite often just to get the thoughts which consume my brain-power out and voiced; though I'm not sure why.

Have you read Henrik Ibsen's play, "An Enemy of the People?" I recommend it. It is truly worth the short time it takes to read. It is not long, and it is probably easily available. It is not exceptional, but I agreed with several points made by the Ibsen through the character Dr. Stockmann. Thanks for providing the world with the site. I feel fortunate to have read it. By the way, you suck. If you understand, then you won't be offended. If you are offended when I tell you that you are a piece of shit, then I have mistakenly judged you to be a person whose personality is much like my own. Also, have you tried not watching TV at all for several months, then watching again? When you do, the stupidity of it all will shock you if you are not through being shocked by peoples' stupidity. You will end up asking why people make commercials, how they are selling their product, and why they are so fucking stupid. Unintelligence really bothers me.
With all the teachers and talking toys available today, I shouldn't have to tell you this, but there's more to being intelligent than not liking TV. And if some of the topics and views expressed in the movie Fight Club were frighteningly close to yours, I hope you use the space left in your brain where TV trivia would normally be to think about this: "You based your anti-establishment attitude on a $100 million dollar movie that showed at the mall, and your greatest intellectual achievement is when you noticed commercials were stupid."

Fight Club was a great movie. I own it on fuck-you-authority DVD, and on kiss-this-Bill-Gates paperback. And I'm sure some people got charmed into thinking they should live the life of a violent transient destroying people's property and secretly peeing in their food. Like you, for example. But the movie's anti-The-Man message is the Special Olympics of philosophy. You should hate The Man for oppressing your freedom or legislating stupidity. You shouldn't hate the Establishment for offering delicious gourmet coffee or building you safe reliable automobiles. And while you're typing from your fuck-The-Man PC on your underground-rebellion microsoft hotmail account, keep in mind that you were excited enough you had something in common with a fictional hobo anarchist that you had to write a stranger to tell them. So you might have a heart attack when you hear this -- that's not really what Alexander Graham Bell had in mind when he invented the word "intelligent." Or when he improved it to be the "George Foreman Fat-Burning Intelligent Deluxe."

Also, you might not have read a play about this, and so haven't formed an opinion about it yet, but everyone thinks commercials are stupid and shocking with stupidity. Even the unwashed masses of unintelligent people that have never seen Fight Club hate commercials. It's why the Pepsi girl needs 25 body guards.