Erotic Navigation:
#10: Bubble Bath Babes

#09: Strip Fighter 2

#08: Burning Desire

#07: The Yakyuken Special

#06: Gigolo

#05: Cho Eniki

#04: Beat 'Em & Eat 'Em

#03: Custer's Revenge

#02: Boong-Ga Boong-Ga

#01: Miss World Nude '96



• Back to the Front
• Back to Seanbaby.com
6: Gigolo
Atari 2600

You, the veteran streetwalker, carefully decide which random door to burst through naked. "Hey in here! Who in this place wants to bury their face in my delicious Motor Bike?!"

Note: For censorship reasons, all genetalia referred to in this particular review have had their original names replaced with the name of a vehicle. For example, what was once the word "penis" may now be described as "Riding Lawnmower." I understand that this choice of code is likely to lead to many savage groin-related disasters, so please accept my apologies for any whirling blades or engines your confusion might lead your penis into.

With your Gigolo game cartridge and a little imagination, you and your Atari 2600 could go on an exciting ride into the world of street prostitution. The object of the game is to go from door to door and hump any men you find inside. When you find a customer, the game switches to an action sequence of you riding his throbbing Dune Buggy in his unfurnished apartment. Press the joystick up to shift your Hovercraft to the tip of his Fire Truck, then press the joystick down to slide your Rollerskate back down to the base of his Speedboat. You receive one dollar for each of these successful humps.

When the John is finished with you, you'll know, because he'll kick your cheap Dirtbike out onto the sidewalk. It's then up to you to navigate through the empty streets and return the money to your pimp's walk-up window. The only real challenge of the game comes from the fact that many random houses contain people unwilling to solicit a prostitute, and they will throw you into the street and call the police. Then it becomes a mad scramble to escape the cops by ducking into houses and hoping someone in there will let you lay low while they pay you to bounce up and down on their Helicopter.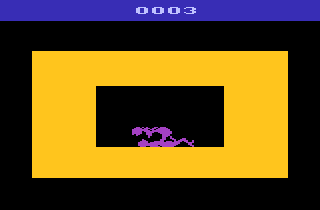 As you can see, this customer has spent so much of his money on your Big Wheel that he couldn't afford a bed.

Eroticism: 1/10
Assuming this wasn't the Atari 2600 and the graphics DIDN'T look like two oatmeal robots humping, take it from me: there's still nothing that desirable about running from house to house, jumping on strange naked men, and fucking them on the carpet.

Nudity Challenge: 3/10
You only get three lives, represented by small Paddle Boats in the top left hand corner, and you lose one every time the police arrest you. You'll run through these pretty quickly since you can't know if anyone's interested in the affordable treats in your pants until you barge right into their house and whip out your Zambonie. That means that if you're unlucky, a lot of games of Gigolo end without even one opportunity to sell your sweet Rocket Ship. You won't mind losing, though; since controlling the stroking of someone's Bobsled in and out of your Forklift isn't much of a reward.

Next Porno Game...