Part 13: Mark and Erik Get Lost. Again. If Kentia Hall is the ass-end of E3, this place is the ass-end of that. The showfloor ends in a rickety, humid maze of cubicles. Everything smells like farts and ozone and sometimes if you look in one of the rooms, you'll wish you hadn't. Mark and Erik were trapped here for three hours. At one point they split up and Mark made a wrong turn and had to have a meeting with Chris Roberts where he was forced to play Freelancer. By the time Mark found Erik again, they were both dizzy from hunger and Erik had a nosebleed.
In their attempt to find food or an exit, they stumbled across a booth run by a Taiwanese dancing game company that was also showing a plate of french fries.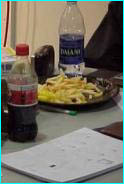 Mark tried to sneak a french fry, but the three Taiwanese guys manning the booth saw him do it. Mark then pretended he was merely examining it, gingerly placed it back on the plate, and asked if he and Erik could please just have some French Fries.
"Dance good, get french fry," said the staffmember wearing a leisure suit, who seemed to be in charge.
As soon as Mark jumped onto the dance pad, Leisure Suit sounded a buzzer and became grim.
"Lose dance, must fight," Leisure Suit told the confused Mark. The two underlings dragged him to a deserted part of Kentia Hall where American McGee was displaying an edgy McDonaldland game. And then they knocked the crap out of him. Between spin kicks, spinning backfists, and a move where they simply spun him around then bonged his head against the Ronald McDonald face, Mark's attackers taunted him: "Where fatcat American Mayor McCheese now, G.I. Crybaby?" and "Taiwan french fry not so funny anymore."
When Mark stopped making noises every time they hit him, the Taiwanese enforcers turned to leave. "Next time you two wiseguy gonna hamburglar french fry, you, nosebleed friend go China booth," one of them said, pointing at Erik, who - taking a cue from Star Trek - had adopted a strict policy of non-interference towards the political micro-climate that had emerged around Mark's savage beating.

Next