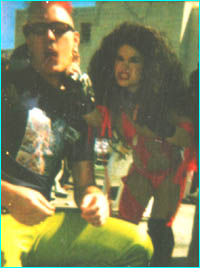 As shown on this collectable plate, Sean's charms don't work on midgets, even if their bikinis scream READY FOR ACTION.
Part 15: Real Anecdotes -- The Voyage of Midget Discovery...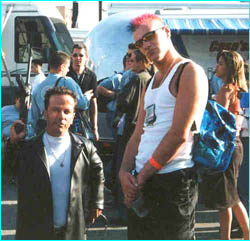 Seanbaby: I saw this action combat midget, and I knew I had to get a picture of her. Her hair was bigger than the rest of her, and her bikini was almost bigger than the eyepatch I was wearing. I don't care how heightist you are, this chick was hot. So I gave my little I-Zone sticker camera to Mike (El Sucka) and told him to get a picture of her punching me in the face. We'd already spent the last few hours trying to hospitalize ourselves with beer, so he was barely functional. "Midget face. Punching you in the chick. Got it."


He turned the camera vertical to fit all 2 and a half feet of her in the frame, completely forgetting about the beer he was holding. It dumped sideways all over some kid's shoe. He was too busy going through his nine plastic bags of free dork pamphlets and magazines to notice. Mike and I started laughing. Beer was slowly soaking into his sock, and he was still trying to find the exact right issue of Nintendo Power to get autographed by the guy who stapled together the Mario Flower Garden instruction books. Mike and I were still laughing, but the midget chick kept her senses.

She got our attention and started screaming orders, "Go! Go! Just go! He doesn't know!!!"

We took off. And we learned something about ourselves. When a midget screams orders at us, we don't think. We just act. We never did learn if the guy figured out what happened to his foot, and honestly we didn't care. It wasn't even the 12th or 13th geek we spilled beer on that day, but thanks to one tiny woman in a ninja bikini, it's the one we'll never forget.

El Sucka memories...



Next
01
02
03
04
05
06
07
08
09
10
11
12
13
14
15
16
17
18
19
20