20
19
18
17
16
15
14
13
12
11
10
9
8
7
6

4
3
2
1
Back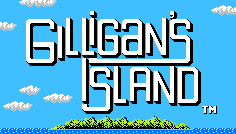 Gilligan's Island. I'm not making this up. Somebody made this game. It amazes me enough that the idea of seven idiots stranded on an island sounded good enough to make a TV show out of, but then the fact that the same idea convinced someone to make a game out of it is incomprehensible.

You control the Skipper as Gilligan follows you around. You exchange comedic quips during your walk that decorum prevents from transcribing here. Needless to say, these two are about as interesting to listen to as Barbie's future shopping plans.




As anyone who wasted thirty minutes of their life to watch the show knows, Gilligan is very accident prone. He's the same way in this game. Birds and baboons hate him, and are constantly attacking him. And if you leave the screen while he's busy getting his ass kicked, you lose him. Then you have to go back and get him and hear his short speech that gives you gameplay hints to prevent future Gilligan losing mishaps. And it's really embarrassing to have to get game hints from a mentally handicapped man in a droopy sailor hat.

The skipper can punch, but he doesn't ever want to when he's moving or jumping, or in the middle of any other situation where the punch might be helpful. So this game consists mostly of tripping over rocks, waiting for Gilligan, and shaking your head in disbelief at how amazingly dumb this game is.

Gilligan happily offers his thoughts on the vicious baboon attack that nearly kills the Skipper.
| | | |
| --- | --- | --- |
| | Graphics: 1 | Gilligan looks like Waldo, but I think that's because they go shopping together after their Magic: The Gathering tournaments. |
| | Fun: 0 | Even if the Skipper and Gilligan would shut the fuck up, you still wouldn't want to play this crap. |
| | Craftsmanship: 1 | It's amazing how durable this cartridge is considering the Professor made it out of coconuts, Ginger's panties, and Mrs. Howell's denture cream. But my copy still fell apart after only three hits with a shovel. |
Next ->