20
19
18
17
16
15
14
13

11
10
9
8
7
6
5
4
3
2
1
Back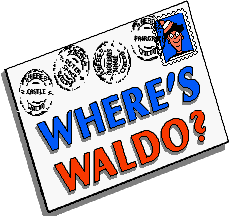 Where's Waldo? As if anyone cared, the geniuses behind the Waldo phenomenon took a stupid line of books and made a stupider game out of them. In this game, you look for Waldo. When he is found, fans of the game get a great feeling not only from the sense of accomplishment, but because they found someone who is a bigger dork than they are.

You spend most of the game waiting for Waldo to walk slowly from location to location where you're finally treated to an exciting Waldo finding experience. You move around a little box and push the button when you think the idiot is in it. But since the graphics are so bad and everyone looks the same, you might as well just spin the controller and randomly push buttons. There is a timer to try to try to prevent this sort of behavior, but it gives you about six hours to find him and no one could conceivably play the game that long. You would have to be blind and have an unplugged controller to lose. At least that's what I thought until I beat the game blindfolded from the kitchen by screaming at it.

Every single one of those faceless things could be Waldo. It's a good thing I hate this game and don't play it.
| | | |
| --- | --- | --- |
| | Graphics: 0 | Of all the games to have crappy little stick figures for graphics, this is the one where it should have been avoided. |
| | Fun: 0 | If one is at the intellectual level required to enjoy this game, they are probably not capable of turning on a Nintendo. |
| | Flammability: 1 | It took at least a whole bottle of lighter fluid before I could get this cartridge to ignite. The saddest thing is, someone still found Waldo in the ashes. God damn Waldo. |
Next ->