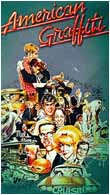 #43 (AFI):
American Graffiti

Year: 1973

Directed by: George Lucas

Written by: George Lucas, Gloria Katz, Willard Huyck

Starring: Richard Dreyfuss, Ronnie Howard, Harrison Ford

Laser Squad: If we'd put our list together before 1999, we might have included this movie. Then George Lucas, or as we call him now, Dr. Hitler, made Star Wars Episode 1. That was way more than we needed to turn on him. Just by thinking we would want to watch that space garbage was like spending $200 million to tell the entire world, "You are all boiling morons." What a dick. Don't get us wrong, we still love and admire Yoda, and sometimes Erik pretends he's talking to Han Solo on the phone, but it would be a serious violation of our ethics if we said something nice about the comedic mind behind Jar Jar Binks.

#43 (IFLS):
Petey Wheatstraw, the Devil's Son in Law

Year: 1978

Directed by: Cliff Roquemore

Written by: Cliff Roquemore

Starring: Rudy Ray "He's not here to brag. He's not here to boast. He can sit on a tombstone and produce baby ghosts." Moore, Jimmy Lynch, Leroy & Skillet



Seanbaby: Petey Wheatstraw was born on the night of a massive electrical storm right after his mother passed a watermelon through her birth canal. The AFI probably didn't get this joke because they weren't raised on the streets like me and Erik. To hardcore motherfuckers like us, seeing someone with a watermelon twin brother is like the American Film Institute seeing a man in a dress slip on a banana peel into a giant asshole.



When Petey was born, he was about 13 years old and could speak fluent English*. Then he attacks the doctor.

* Fun Rat Soup Eating Fact: In Dolemite movies, only about a third of the people cast can come close to delivering a line. But it's even worse with the children in Dolemite movies. With them, the cheap audio, bad acting, and speech impediments come together for amazing gibberish. Most of this kid's lines are, "mmrpha rara cracka rmphra!" I'm sure that if we could understand it, it would hold the secrets of the universe. Otherwise, why would he be born in a little diaper?



Before the credits are half way done, young Petey starts learning the secret powers of the Orient from a wise old karate man. He becomes a master of death with his hands. Before the credits finish, Petey grows up and his karate degnerates into Dolemite kind of belly dancing while someone mouths "blooga blogahblooga!" into a microphone behind him.

Fun Jock-Jawed Insecure Fact: The American Film Institute may not know this, but Wildman Steve (name shown above by childhood karate action) starred in a movie called "The Six Thousand Dollar Nigger." I'm totally serious; these people make some kickass movies.



Other Petey Wheatstraw Highlights:


If you take the crappiest Miami Vice villains and stuff a ham in the front of their pants, you get this movie's bad guys-- Leroy and Skillet. Also, make them medically retarded. These guys go a little bit overboard when they murder an entire funeral procession to keep Dolemite from having a show the same night their club opens. And since it's against the law to arrest fat people, they get off clean. So Petey Wheatstraw has to agree to marry the devil's ugly daughter so he can get a magic pimp cane that brings him back to life; and back for street justice.

Later, the devil goes jogging. I know he's the reason I lie and fornicate with animals, but when he's cruising around like this, he's totally lovable.

This is the same band you see in every Dolemite movie, and I still don't know what their name is. If there is any truth left in this universe, I'd like to think their name is "The Worst Fucking Band in the World."

After getting the magic pimp cane, Petey dances through the streets fixing problems with devil powers. He makes a fat person skinny, turns a bad husband into a puppy, and combs this kid's hair against his will. And when I say "comb," I mean that he yanks an afro pick through it for ten seconds, making no progress in any hair movement whatsoever, then leaves the little bastard alone and crying. And remember, Rudy Ray Moore doesn't know anybody that can act. Those tears weren't fake. This child actor really thought he was going to die.