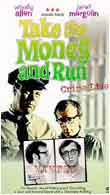 #66 (AFI):
Take the Money and Run

Year: 1969

Directed by: Woody Allen

Written by: Woody Allen, Mickey Rose

Starring: Woody Allen, Janet Margolin

Seanbaby: The AFI took a break from paleolithic Cary Grant movies to actually pick a funny one for this slot. Too bad none of us at IFLS remembered to put it on ours. I think it was because we thought Take the Money and Run was too close to Take the Monkey and Run, which would have been superior in every way. To prove it, The Calculando Calrissian 2000 created this vision of the movie in a more perfect world: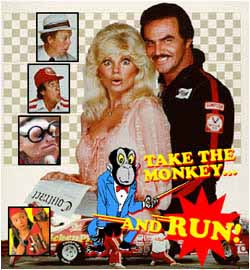 #66 (IFLS):
Army of Darkness

Year: 1993

Directed by: Sam Raimi

Written by: Sam and Ivan Raimi

Starring: Bruce Campbell (and tiny Bruce Campbell, uncredited), Ted Raimi, Bridget Fonda

Seanbaby: I think genius linguists invented the word "kickass" just so years later this movie could be referred to as kickass. I love Army of Darkness so much that if we were doing the Top 100 Documentaries of the American Film Institute Mummy Tombs, I still would have snuck it in.