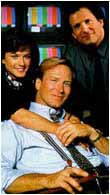 #64 (AFI):
Broadcast News

Year: 1987

Directed by: James L. Brooks

Written by: James L. Brooks

Starring: William Hurt, Albert Brooks, Holly Hunter, Joan Cusack

Seanbaby: Broadcast News is well written and well acted. Despite that, I'd rather have a pair of the AFI's dusty panties in my mouth than ever watch it again.



#64 (IFLS):
Bachelor Party

Year: 1984

Directed by: Neal Israel

Written by: Bob Israel, Neal Israel, Pat Proft

Starring: Tom Hanks, Deathstalker II's Monique Gabrielle, Real Genius' Robert Prescott, American Ninja's Michael Dudikoff

Seanbaby: Bachelor Party did what even the Japanese couldn't - it put the fun back into fucking donkeys. It also taught us how you can measure how good a party was. It has to do with how insane the things on the floor are afterwards. After a good party you'll trip over livestock, a mariachi band, and a dead hooker. At the end of a bad party, it's just a dead hooker. Next to polaroids of you killing her.