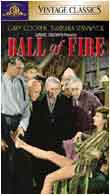 #92 (AFI):
Ball of Fire

Year: 1941

Directed by: Howard Hawks

Written by: Charles Brackett, Thomas Monroe, Billy Wilder

Starring: Gary Cooper, Barbara Stanwyck

Erik: People in 1941 thought Ball of Fire was hilarious, which provided them with a nice break from thinking that black people shouldn't vote.

Kthor: Another disappointment. I've been spoiled by the Japanese late-night game show, "Balls Of Fire" and was expecting ninety minutes of kerosene-soaked hilarity. Instead I got a movie about goddamned encyclopedia writers.

Seanbaby: This is why America was in a depression at the time-- because shit like this was all they had to make them laugh.

Mark: Wasn't the Depression during the 30's?

Seanbaby: Oh, so you're not just an expert on crappy old movies, you an expert on crappy old EVERYTHING.



#92 (IFLS):
The King of Comedy

Year: 1983

Directed by: Martin Scorsese

Written by: Paul D. Zimmermann

Starring: Robert DeNiro, Jerry Lewis, Sandra Bernhard

Seanbaby: The name "Ball of Fire" was completely wasted on the movie Ball of Fire. And the name "The King of Comedy" was completely wasted on the movie The King of Comedy. It's the reason why Dolemite had to name his movie "Dolemite."

Erik: This movie was so ahead of its time that audiences in 1983 didn't even think it was funny. Sean still doesn't think it's funny. He tried to block its inclusion on the IFLS list by making a "no Sandra Bernhard" rule. But Thor and I muscled it through anyway. As I write this, I can't see what snide comments Sean's making about King of Comedy. Whatever he says, don't believe him. Unless he says something like "Erik is definitely *not* a fag." Which is just the kind of tricky shit he'd try to pull.