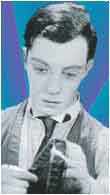 #62 (AFI):
Sherlock, Jr.

Year: 1924

Directed by: Buster Keaton

Written by: Clyde Bruckman, Jean C. Havez, Joseph A. Mitchell

Starring: Buster Keaton

Seanbaby: The only thing that wins more prizes than catching a terminal illness is being unbelievably, deformably old. That's why people win lifetime achievement awards right before they lose their courageous battle against face cancer or God's practical joke - aging. There might be a ballroom full of people politely clapping when the winner shuffles out to accept their award, but they're all secretly thinking, "I hope his head doesn't vibrate off until he gets backstage." Buster Keaton's head was eaten by insects 30 years ago, we shouldn't have to pretend this stuff is still funny.



Erik: If they were trying to find the root of all comedy, I'm surprised they didn't pick this cave painting of Vincent Price hitting a giant groundhog with a salami.

#62 (IFLS):
There's Something About Mary

Year:

Directed by: Bobby and Peter Farrelly

Written by: Ed Decter, John J. Strauss, Bobby and Peter Farrelly

Starring: Ben Stiller Cameron Diaz, Matt Dillon, Chris Elliot

Seanbaby: Yeah, this movie is pretty funny, but... I can't stop thinking about all the funny movies that didn't make it. Where's the laughter when we forget movies about fat people? Hostage for a Day had John Candy AND George Wendt in it. That's two fat people in a leading role and it didn't get one Laser Squad vote. The cover of beef-classic Fatso featured a Dom DeLuise so fat he held a hot dog IN EACH HAND. How could the Calculando Calrissian 2000 have missed that? Unless... my god. The Calculando Calrissian 2000 is reall-*ACK*!!!

Mark: Sean? Sean!? SEAAANNNN!!!!! NOOOO-*ACK*!!!!