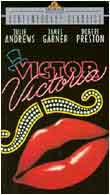 #76 (AFI):
Victor/Victoria

Year: 1982

Directed by: Blake Edwards

Written by: Blake Edwards, Hans Hoemburg, Reinhold SchŁnzel

Starring: Julie Andrews, James Garner, The Last Starfighter's Robert Preston, John Rhys-Davies

Erik: A comedy about cross-dressing has to be pretty dismal to not automatically crack the AFI's top twenty. The fact that Victor/Victoria has the added bonus of being about some sort of double reverse cross-dressing and *still* only ranks 76th actually means it's the worst movie the AFI has ever seen, which is about right.


Mark: The AFIís panel of crossdressing RuPaul experts continue to bombard us with of off-kilter, madcap homosexuality in this nearly instantaneous remake of Tootsie. If movies about men in dresses are so goddamn funny, then why didnít the AFI vote for any Scottish films, or Martin Lawrence's Big Momma's House?



#76 (IFLS):
Welcome to the Dollhouse

Year: 1995

Directed by: Todd Solondz

Written by: Todd Solondz

Starring: Heather Matarazzo, Matthew Faber, Brendan Sexton III

Mark: I always feel like an asshole for laughing when I watch this movie. Regardless, itís good, and itís funnier than some second-rate Tootsie.

Erik: This movie starts off funny, then takes a weird turn into serious drama after Dawn's little sister is kidnapped. On the other hand, the main charater's name is Wiener, and - comedy-wise - that's pretty hard to argue with.