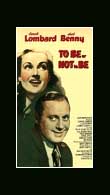 #49 (AFI):
To Be Or Not To Be

Year: 1942

Directed by: Ernst Lubitsch

Written by: Melchior Lengyel, Ernst Lubitsch, Edwin Justus Mayer

Starring: Carole Lombard, Jack Benny

Seanbaby: This is movie was one of the first comedies set in Nazi Germany, years before Hogan's Heroes showed how zany genocide could be. For further insight to To Be or Not to Be, here's an excerpt from a review by Amazon.com's Tom Keogh:

"Above it all is Lubitsch's unmistakable Continentalism, his accent on Old World manners especially in a dangerous situation, suggesting the Nazis' very vulgarity was a reflection of their profound evil."

Good work, Ernst Lubitsch, you subtly implied that mass-murderers might be evil by giving them bad manners. If you weren't dead, maybe you could imply that Jeffrey Dahmer wasn't so great by showing him drinking a wine that doesn't go with baby.

#49 (IFLS):
Happy Gilmore

Year: 1996

Directed by: Dennis Dugan

Written by: Tim Herlihy, Adam Sandler

Starring: Adam Sandler, Carl Weathers, Christopher McDonald, Robert Smigel, Bob Barker

Calculando Calrissian 2000: In the tradition of Teen Wolf Too, this was the most record-breakingly non-rewritten followup to a previous movie. However, even with no actual way to sense humor or love, my robot mind must admit it to bringing my flawless deadly circuits... joy. Perhaps your foolish flesh can take comfort in that when it's being pulled through the gears of my atomic flesh mangler. Fool.

Mark: Adam Sandler plays an orphaned retard/single-parent child who must overcome seemingly insurmountable intellectual barriers in order to save his grandma's house/father's business/uncle's farm from evil developers/politicians/Bob Barker, all with the help of the child sidekick/girlfriend he'll meet along the way! (See also: Billy Madison, Water Boy, Big Daddy)