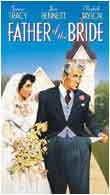 #83 (AFI):
Father of the Bride

Year: 1950

Directed by: Vincente Minnelli

Written by: Edward Streeter, Frances Goodrich, Albert Hackett

Starring: Spencer Tracy, Joan Bennett, Elizabeth Taylor

Erik: Personally, I prefer the 1961 version starring the most underrated comic actor of the last half of the twentieth century, Leon Ames. I'm kidding about that. But for a second there you probably thought I was smarter than you are. That's just the kind of trick the AFI's pulling here. Not only is the 1991 Steve Martin remake funnier, it's more popular. That, of course, is the artistic kiss of death for the mincing gaywads at the AFI.

Seanbaby: Was the idea that someone's daughter gets married so compelling that it had to be remade twice? Here's an idea for Hollywood's screenwriters: next time you have the idea to remake a 90 minute sitcom about weddings again, remember that the best idea for a movie ever, Dawn of the Dead, has only been made once.

#83 (IFLS):
Meatballs

Year: 1979

Directed by: Ivan Reitman

Written by: Janis Allen, Len Blum, Dan Goldberg, Harold Ramis

Starring: Bill Murray, Harvey Atkin, Chris Makepeace, Kristine DeBell

Seanbaby: If this movie gave you a handjob behind the cabin and taught you how to make an ashtray, it'd be as good as real summer camp.