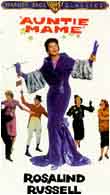 #94 (AFI):
Auntie Mame

Year: 1958

Directed by: Morton DaCosta

Written by: Betty Comden, Patrick Dennis, Adolph Green, Jerome Lawrence, Robert E. Lee

Starring: Rosalind Russell

Erik: From the IMDB description of Auntie Mame:

"Patrick and Mame become devoted to each other in spite of this restriction, and together journey through Patrick's childhood and the great depression, amidst some rather zaney [sic] adventures."

I really like how Auntie Mame is just "rather zaney". Bravo to the makers of Auntie Mame for showing such restraint in their zaniness. Honest to God, the number "94" is more funny to me than anything I've read about Auntie Mame.

Seanbaby: "Auntie Maim" would be a really clever name for a snuff film. Same with "Erotic Hacksaw."

Kthor: It took five people to write this? Any comedy with a lead character that can be described as "free-spirited" is not going to be funny. To continue the theme of bad puns based on the similarity of the lead's name to an act of violence, I'm waiting for "Uncle Rape." No, really, I am.



#94 (IFLS):
The Apartment

Year: 1960

Directed by: Billy Wilder

Written by: I.A.L. Diamond, Billy Wilder

Starring: Jack Lemmon, Shirley MacLaine

Seanbaby: This movie would have been better if it was called Assault on Apartment 13, and instead of Shirley MacLaine as the girlfriend, they got Walter Matthau to be the alien counter terrorism expert. Shirley MacLaine could still be in it, but she'd have to be crammed inside a flying robot suit that always gets into trouble.

Erik: I haven't seen this one, but the StompTokyo guys tell me it's even better than The Muppet Movie. 'Nuff said, I guess.

Kthor: Actually, this has a pretty funny theme; beleaguered office worker lets his bosses use his home for sticking the pork to their secretaries. Unfortunately, they chose to make it "romantic" and "touching" instead of "funny" and "sperm-soaked."