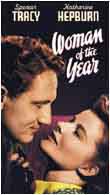 #90 (AFI):
Woman of the Year

Year: 1942

Directed by: George Stevens

Written by: Ring Lardner Jr., Michael Kanin, John Lee Mahin

Starring: Spencer Tracy, Katharine Hepburn

Seanbaby: This is a story about how a feminists's ambition wins her the Woman of the Year award, but costs her her husband and femininity. Personally, it taught me so much about myself and my own struggle for acceptance in the form of medals, trophies, and prizes. But mostly it taught me that in 1942, Woman of the Year wasn't really decided by pie baking and bikini wrestling.

Erik: If you think the skeleton fight in Jason and The Argonauts is funny, you'll probably like these Katherine Hepburn movies, because she's an evil fucking skeleton. She scares the crap out of me. She's so supernaturally unkillable that in most of her films nobody even tries to. Every one of her films should just be called Katherine Hepburn with a roman numeral after it, like the Jason movies.



#90 (IFLS):
Cheech & Chong's Up in Smoke

Year: 1978

Directed by: Lou Adler

Written by: Cheech Marin, Tommy Chong

Starring: Cheech Marin, Tommy Chong

Seanbaby: These two potheads made a movie out of their garage that was more influential than all of Nancy Reagen's billion dollars worth of anti-drug commercials combined. The real genius behind it is that it seems like it was scientifically designed to be 500 times better when you're high. Of course, when you're high, you read a lot into things. I was once convinced that the lyrics to a Debbie Gibson song were trying to get me to fall in love. And then send her my skin.