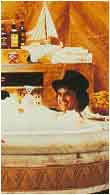 #53 (AFI):
Arthur

Year: 1981

Directed by: Steve Gordon

Written by: Steve Gordon

Starring: Liza "Shoot me in the face" Minnelli, Dudley "Shoot me in the neck" Moore

Seanbaby: When the Secret Service interrogated me, they used every trick my taxes payed for. They'd ask me if I wanted to kill the president, then act like they were going to go do something else... and then quickly ask if I wanted to kill the president again. But I never cracked. Partly out of Captain America willpower and partly because I don't get the paper and wasn't even quite sure what president they were talking about. That's when they took the next step: torture. I was led into an empty screening room and forced to sit through unimaginable acts of horror for 20 hours. Because of the chip they put in my head, I can't tell you exactly what I saw in that room where I looked into the eyes of Satan while he kicked my balls, but I can tell you this: The Secret Service's most sadistic torture device is number 53 on the AFI's Top 100 Funniest Films list. Again, good choice, you heartless mummy bastards.



#53 (IFLS):
Best in Show

Year: 2000

Directed by: Christopher Guest

Written by: Christopher Guest & Eugene Levy

Starring: Christopher Guest, Eugene Levy, Fred Willard, Catherine O'Hara, Michael McKean, Parker Posey

Seanbaby: This movie was hilarious. But it's kind of not fair of us including it since it came out a few months after the AFI made their idiot list, and about 60 years after they stopped watching movies and devoted all their time to roaming the streets as the unkillable walking dead.