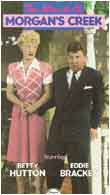 #54 (AFI):
The Miracle of Morgan's Creek

Year: 1944

Directed by: Preston Sturges

Written by: Preston Sturges

Starring: Eddie Bracken, Betty Hutton

Erik: You may know this movie by its alternate title: Journey To The Center Of The AFI's Neck starring six quarts of Preston Sturges' semen. I'M BACK!



#54 (IFLS):
Clerks

Year: 1994

Directed by: Kevin Smith

Written by: Kevin Smith

Starring: Brian O'Halloran, Jeff Anderson, Kevin Smith, That Kid that Says the Stupid Shit

Erik: You know what's funnier than Clerks? Neither does whoever put Blazing Saddles at #51.