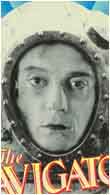 #81 (AFI):
The Navigator

Year: 1924

Directed by: Donald Crisp, Buster Keaton

Written by: Clyde Bruckman, Jean C. Havez, Joseph A. Mitchell

Starring: Buster Keaton, Kathryn McGuire, Frederick Vroom

Seanbaby: The Navigator is a story of a couple stranded on a boat struggling to learn to live without the assistance of slavery. Fans of this classic movie have a very refined sense of humor and will probably crumble to dust if you accidentally poke them.



#81 (IFLS):
A Fish Called Wanda

Year: 1988

Directed by: John Cleese, Charles Crichton

Written by: John Cleese, Charles Crichton

Starring: John Cleese, Jamie Lee Curtis, Kevin Kline, Michael Palin

Seanbaby: You know how liking some movies makes you a big pussy? I don't know if this is one of those movies, but I think the reason Mike Tyson is so tough is because he's never seen A Fish Called Wanda.