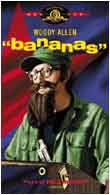 #69 (AFI):
Bananas

Year: 1971

Directed by: Woody Allen

Written by: Woody Allen, Mickey Rose

Starring: Woody Allen, Louise Lasser

Seanbaby: You probably noticed that every movie that the American Film Institute liked after 1940 was made by Woody Allen. The AFI better hope he lives forever, because right now he's the only person that can make them laugh that doesn't have to get dug out of a graveyard.



#69 (IFLS):
Quick Change

Year: 1990

Directed by: Howard Franklin, Bill Murray

Written by: Jay Cronley, Howard Franklin

Starring: Bill Murray, Geena Davis, Randy Quaid

Seanbaby: This is the second time the Calculando Calrissian 2000 put two Bill Murray movies in a row, a sign of its dangerously growing genius. Here's another sign of its dangerously growing genius: it looks like this now...

... which is pretty scary considering that last week it was basically a calculator on Erik's computer. At this rate, it should be three stories tall and made entirely out of machine guns in time for Christmas.